FCW Insider: March movie madness continues
The March best government movie Madness continues. We have just concluded the most recent set of voting.

JFK (77 percent) beat out Nixon (23).


In the Line of Fire (72) beat out Absolute Power (28). (When we get to round two, JFK will face off against In the Line of Fire.)
We are updating the brackets so you can see what movies face off... you can see the bracket so far here...

Click here to enlarge the bracket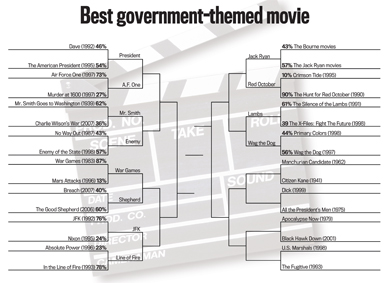 We have two more sets of battles and we will finish the first round of movies and then move on to the sweet 16.

So go to fcw.com/polls to vote on which is the best government-themed movie.

Hunt for Red October (1990) vs Crimson Tide (1995)

The Silence of the Lambs (1991) vs X-Files: Fight the Future (1998)

Primary Colors (1998) vs Wag the Dog (1997)

Your favorite movies move on, so vote away at fcw.com/polls.