FedBizOpps procurement stalls once again
GSA is mum on next steps as judge denies government's request for reconsideration.
A long-running dispute that has prevented the General Services Administration from awarding a new contract for its Federal Business Opportunities Web portal is not over yet. But some industry officials say the government's premier procurement portal is falling behind in its capabilities.

"It is time for someone at GSA or the Office of Management and Budget to take control of this program, put it back on track and be the responsible person for the most critical e-commerce system in U.S. government," said William Shook, attorney for Information Sciences Corp. (ISC), the incumbent subcontractor and lead protester.

GSA issued a request for proposals to upgrade FedBizOpps in May 2004 and accepted proposals the following June. But since then, GSA has spent three years responding to protests. Without an end to the dispute in sight, industry officials say, the federal government and companies that sell their goods and services to the government are stuck with an outdated portal.

"FedBizOpps.gov is no more than a bulletin board service," said David Lucas, director of government relations at Global Computer Enterprise. The company manages the Federal Procurement Data System-Next Generation and did
not bid on the FedBizOpps proposal, he said.

Shook said GSA is doing a disservice to the government by not ending the dispute and by reducing its payments to the incumbent contractor supporting FedBizOpps.

"GSA has cut the prime contractor's, Science Applications International Corp., budget in half since October 2005," Shook said. The agency has not given SAIC or ISC a rationale for cutting the budget, Shook added.

The contract dispute has attracted the attention of Rep. Chris Van Hollen (D-Md.), who sits on the House Oversight and Government Reform Committee. Van Hollen wrote a three-page letter in February to GSA Administrator Lurita Doan asking why the procurement has become so muddled.

Click here to enlarge timeline(.pdf).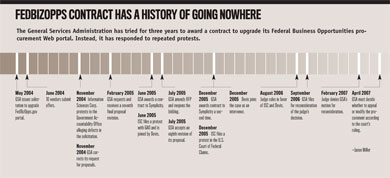 A member of Van Hollen's staff said the lawmaker is concerned about the current contractor's hands being tied. "We are curious why GSA keeps fighting when they keep losing," the staff member said. ISC, the incumbent subcontractor, is located in Van Hollen's district.

The staff member said committee chairman Henry Waxman (D-Calif.) is aware of the situation, but the staff person did not know what steps, if any, the full committee might take to end the dispute.

A GSA spokesman would say only that the agency is considering its next step.

In the latest episode, U.S. Court of Federal Claims Judge Susan Braden denied the government's request for reconsideration of three provisions in her September 2006 ruling. Braden asked the government to appoint a new source selection authority to re-evaluate bids.

Braden concluded that GSA had incorrectly calculated the bid from Symplicity, the winning vendor, when it awarded the company a $17.4 million contract in December 2005. A Symplicity spokesman did not want to comment on the judge's latest decision.

GSA has 60 days to appeal or comply with the judge's order.

Devis, a company that joined the case as an intervenor, said the government need not worry about getting out-of-date technology when the FedBizOpps contract is finally awarded. Because it is a fixed-price, performance-based contract, the winning vendor must meet GSA's performance requirements, said Martin Hudson, Devis' chief technology officer.

However, Lucas said FedBizOpps would be a much better portal if the government had kept up with technology changes.

"The government is spending just enough money to keep it going and make changes that are important, but they are not spending money to make it better," Lucas said.

"If you compare FedBizOpps to the services you pay for, like Input or Federal Sources Inc., there is a lot of functionality in those services that FedBizOpps just doesn't have."