Circuit
Davis: Hey, look what we've done; Hear it again; Hank Paulson's net worth increases twentyfold; A crumb in the corporate cosmos; ELC...Newt, can you hear us now?; Quote of the week
Davis: Hey, look what we've done
Rep. Tom Davis (R-Va.), chairman of the House Government Reform Committee, wants everyone to know his committee is productive. He released a statement Oct. 16 stating that in this congressional session, his committee and subcommittees oversaw 256 hearings on everything from the high-profile steroids controversy to the General Services Administration's reorganization.
"The committee's efforts saved taxpayers $6.5 billion," Davis wrote, citing the Government Accountability Office's research.
"The accomplishments of the hard-working members and staffers on this committee put the lie to the charge that the House has failed to conduct meaningful oversight of the Bush administration," Davis wrote. "True, it's not the politically charged, inquisitorial 'Gotcha!' oversight some might prefer. But oversight is about making government better, not collecting scalps."
Davis also reported that he shepherded legislation to establish a searchable public database for all federal grants and contracts. And he added that his committee conducted three oversight hearings on GSA's Networx contracting program.
Hear it again
This week, the American Council for Technology/Industry Advisory Council posted audio files of speeches given at last week's ACT/IAC Executive Leadership Conference in Williamsburg, Va. You can download performances by James Carville, Mary Matalin and Newt Gingrich at www.iaconline.org. You can also hear federal bigwigs discuss the Bush administration's focus on risk management and business performance.
Hank Paulson's net worth increases twentyfold
Treasury Department Secretary Henry Paulson visited the Bureau of Engraving and Printing Oct. 23 to unveil the first paper currency bearing his signature — a new $20 bill.
Unlike the high-tech sorcery it uses to create security features on money, Treasury relies on steel plates to imprint Treasury officials' signatures. Bureau engravers cut the signatures into soft steel and transfer the designs to printing plates for mass production.
The bureau prints currency on high-speed, sheet-fed rotary presses capable of churning out more than 8,000 sheets per hour. Each impression requires the combined handiwork of artists, steel engravers and plate printers.
A crumb in the corporate cosmos
About 4,000 government Web sites have registered .gov domain names, said Stephen Wardius from GSA's Center for Information Infrastructure, which manages the .gov domain registration program.
But .gov domain names don't rank tops in the online popularity contest.
The Top-Level Domains List for the Internet Professional showed the following results returned by a Google search July 9.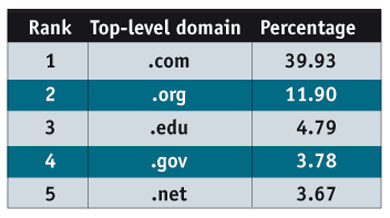 ELC...Newt, can you hear us now?
Former House Speaker Newt Gingrich was a lunch speaker at the Executive Leadership Conference last week, but he spoke via a video link that was imperfect, to say the least. Gingrich sounded OK. However, the video was so choppy that one person whispered "dial-up" loud enough for others to hear.
At the same table were representatives from two major telecom companies. They pointed fingers at one another, each saying, "This must be your network."
At one point in the presentation, Gingrich interjected, "I want to slow down for a second." We're pretty sure he was talking about the subject matter of his speech, but it got a big laugh in the room.
The video problems detracted from an interesting presentation by Gingrich, who said he expects the pace of new technology development to increase rapidly because of a growing number of scientists worldwide. He said the United States faces strong tech competition from China and India.
Quote of the week
"I am out on Friday and will most likely not be answering my cell as I will be focusing on my wedding the following day. Because government procurement stops for no man's wedding, I will be back in the office next Monday."
Larry Allen, executive vice president of the Coalition for Government Procurement, on why he would be absent from work Friday, Oct. 27.
Got a tip? Send it to asternstein@fcw.com.