Risk management critical for FISMA success
Experts say IGs and execs must agree on common enforcement and audits.
Federal agencies made progress in using risk management to enhance computer security in fiscal 2005, the Office of Management and Budget concluded last week. But some information security experts say government auditors and executives are keeping agencies from wielding that tool effectively.
OMB released a report March 1 on 25 federal agencies' performance in complying with the Federal Information Security Management Act (FISMA) of 2002. FISMA aims to improve the security of federal information systems.
The total number of federal IT systems grew by 19 percent from fiscal 2004 to fiscal 2005, from 8,623 to 10,289. The number of certified and accredited systems skyrocketed 32 percent, from 6,607 to 8,735. The number of tested contingency plans rose 28 percent, from 4,886 to 6,233.
The number of systems tested for security controls dropped 4 percent overall from fiscal 2004 to fiscal 2005, from 76 percent to 72 percent. OMB did not see that as a problem, however, because fiscal 2005 was the first year in which agencies prioritized IT systems according to high, medium and low risk to spend more wisely on security.
"It is apparent from the data that agencies are properly prioritizing security control testing since the percentage of high-impact systems tested was appreciably higher at 83 percent," the report states. Agencies certified nearly 90 percent of their high-risk systems.
Even as OMB said agencies are using risk management to enhance security, federal and industry FISMA experts say the government must give federal information assurance staff more leeway to use it.
The National Institute of Standards and Technology's guidelines for FISMA risk management are open to interpretation, said Patrick McBride, vice president of compliance solutions at Scalable Software. Inspectors general at some agencies enforce the letter of the law, while others give their agencies discretion in applying them.
NIST guidelines for FISMA encourage agencies to prioritize IT systems by risk, said Mischel Kwon, information assurance director at the Justice Department's Wireless Management Office. OMB and agency IGs agree with that in principle, she said, but don't judge audits that way — they hold all to the highest standards.
Unless IGs and agency leaders provide more leeway, Kwon said, information security staff will still have to certify every system as high priority, continuing a cycle of overwork and frustration.
IGs are risk-averse by nature, which makes it difficult for some agencies to adopt risk-management strategies, McBride said.
Another reason that IGs and top executives demand all systems be treated as high risk is that they don't have the IT expertise to understand security problems, said Ron Ross, who leads NIST's FISMA Implementation Project. "We're on totally different wavelengths," he said.
NIST and other FISMA implementers must get chief information security officers, chief information officers and IGs together to hear the same information and establish appropriate expectations, Ross said. "There's no substitute for good communication and support from the top of the enterprise," he said.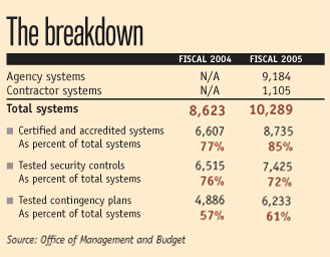 **********